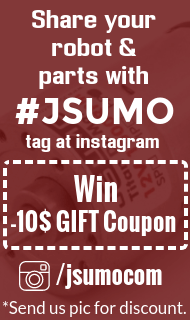 Wing Arduino Nano Robot Controller (Nano Included)
Buy wholesale for more discount!
Bu ürün için fırsatı 21.02.2018 00:00 tarihinde kaçırdınız.
Stock: In stock (12 Pieces)
Add to Favorites

Features

Dimensions

Comments (0)

Payment Options

How Will We Ship To You?
Wing, Small and versatile All in One Robot Controller

After the success of Genesis boardswe designed with same pinout controlelr board for smaller design and lower price. With Wing, you can create mini-sumo robots, line follower robots and other robot projects easily.

The design of the Wing motor drive pins is identical to the individual Ardumoto + Arduino pins. This is a huge advantage. Meaning, you can use all the line-following codes that are made with Ardumoto on the internet in the Wing Board. All you have to do is choose the Nano card instead of the Uno card in the Arduino program.

Tehnical Specs

Working Voltage: Between 8V - 15V.

Output Current of Motor Drivers: Burst 3A, Continous 2 Ampere (all 12mm, 15mm, 16mm diameter motors can be driven by Wing's motor drivers) Dimensions: 56mm x 51 mm x 18 mm (Board is very small for line followr and mini sumo robot projects. Lastly, Wing comes with Arduino Nano and USB cable.

Wing Board Features

78M05 based linear regulator
Mosfet motor drivers 8 - 30V, 2 Ampere Output
User trimpots (Connected to A6 and A7)
Dipswtich (Connected to D5-D6-D7, 3 Position red dipswitch)
Mode Leds (Connected to D8 and D9)
Start Button & Start Pin (Connected to D10 used for minisumo or line follower robots with start modules or with sensors)
Arduino Nano 8+1 pin total 9 pins are free for usage, you can add sensors, interface elements...)




Think about wing is super carrier for Arduino Nano. Wing uses board's regulator for powering Arduino Nano so you are less likely to burn your nano, and what's more? all sensor I/O pins a-have current limiting resistors which also helps to save pin breaks.





What you can do with Wing Board?

Lots of things. We suggest for minisumo robots and line follower robots strongly.

Example Scenario (For Line Following Robot)

You can connect QTR-8RC Sensor to the sensor input pins in groups (all ports A0-A5 can be used both digital and analog)

2 trimpot on Wing can be used to change motor speed values or Kp, Ki, Kd for PID control (you can control with trimpot without re-programming)

The 2 ampere double motor output is sufficient for all line-following robots.

Line follower's motors can be driven with speed and direction control routine easily.

Size (cm)

:

5.6 x 5.6 x 4

All products shipped with sealed in box. All products packaged carefully. Before shipment, we test all electronics and control the mechanics of all products. So you will never be disappointed when you open our JSumo shipment box.

We have 3 Payment Methods:

Credit Card Payment (Secure 128 bit SSL encrypted)
Bank Transfer (Swift)
Western Union

All products shipped with sealed in box. All products packaged carefully. Before shipment, we test all electronics and control the mechanics of all products. So you will never be disappointed when you open our JSumo shipment box.

We have 2 Shipment Options:

Registered Air Mail ( Fixed Price 9,95 USD, Free On Orders Over 199 USD)
DHL Worldwide Express Shipment (Based on weight)

Example Time Table For International Shipments with Air Mail

Europe Countries

2-3 Weeks (Sometimes Less)

USA

3-4 Weeks

*Mexico

4-6 Weeks

African Countries

4-6 Weeks

Japan

2-3 Weeks

Qatar

3-4 Weeks

Brazil

3-6 Weeks

Malaysia

4-5 Weeks

*Peru, Ecuador, Colombia

4-6 Weeks

Philippines

4-6 Weeks

Russia

3-4 Weeks

Saudi Arabia

3-4 Weeks

Middle Asia Countries

3-4 Weeks

Azerbaijan

2-3 Weeks

Mongolia, China

4-6 Weeks

United Kingdom, Ireland

3-4 Weeks

Latvia, Estonia, Lithuania

3 Weeks

Canada

2-3 Weeks

*Mexico, Peru, Ecuador & Colombia shipments can lose too much time at transits after exiting.

We are sending shipment code but this can be only trackable inside your country. We suggest this countries to DHL express (3-5 Days arrival time) for more reliable and tracking option.

These countries are the only examples. If your country is not in the list, don't be afraid. We are shipping to all over the world including your country too:)

What is your return policy?

You may return a product for refund or exchange (if due to our error) within 30 days of the order shipment date. (The order shipment date and order notification are provided to you by email). All returns must be accompanied with a Return Merchandise Authorisation number (order number #).

If we shipped you the wrong product, or it arrived defective or damaged

No problem. Just contact us within 30 days of the item's original shipping date to arrange for the return of your purchase. Send us photo of wrong product. And we will send a replacement or refund you for your purchase, provided the returned item(s) are received back in their original packaging, along with all accessories, warranty cards, manuals, software, etc., where applicable.
Jsumo Recommends These Too!